2017.08.24
AW3D won the "Asia Geospatial Technology Innovation Awards 2017"
A global high-resolution 3D map, AW3D won the "Asia Geospatial Technology Innovation Awards 2017" at the "Asia Geospatial Excellence Awards" held by Geospatial Media and Communications in Malaysia.
This award is to confer the organizations or projects for exemplary innovations and practices in geospatial information and technology in the Asia Pacific region.
AW3D is the world's most precise global 3D map covering all global land spaces with 5 meter resolution, and it has been used in 300 projects, over 70 countries across the globe mainly in emerging countries in Asia Pacific. It was recognized that technological initiatives are playing a significant role in shaping the World economy and society through projects that contribute to measures for infrastructure, disaster prevention and much more.
NTT DATA and RESTEC plan to provide this service as a part of a total solution which links the customer's business applications, and move forward to expand its usage to create a new 3D geospatial market in the future.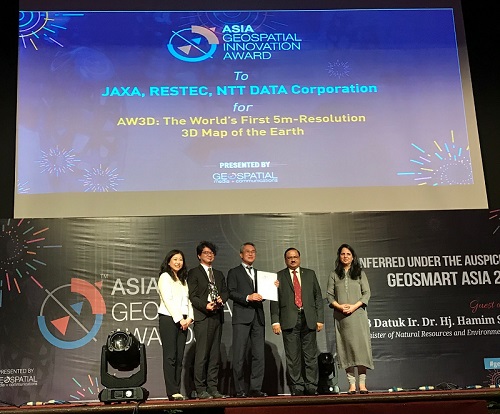 (External link) NTT DATA
AW3D, Global High-Resolution 3D Map, Winner of the Asia Geospatial Technology Innovation Awards 2017
Back to the list