High-resolution digital 3D map covering the entire global land area
AW3D Standard is the world's best global DEM. More than 3 million satellite images are used to create the most comprehensive high-resolution digital 3D imagery available today.
AW3D Standard is based on PRISM data acquired by the Advanced Land Observing Satellite (ALOS) from the Japan Aerospace Exploration Agency (JAXA). Development of AW3D Standard began in February 2014 and is the result of a public‐private partnership project among JAXA, NTT Data, and Remote Sensing Technology Center of Japan (RESTEC).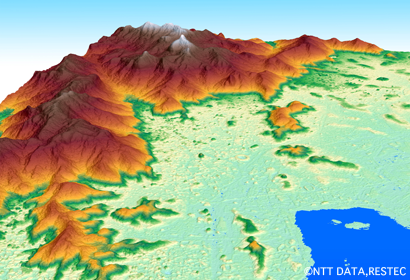 DEM (Rio de Janeiro)
Perfect 3D coordinates achieved by 3-way observation

PRISM data acquired by 3-way optical system (Forward, Nadir, Backward) makes highly accurate data of various types of terrain, even sharp slope of Mt. Everest. True Ortho is orthorectified imagery made from nadir image without angle view. Highly accurate 3D coordinates information is available using 3-demensional information (DEM and orthorectified imagery) including horizontal information.

High Geolocation Accuracy without GCP Correction

The product offers high geolocation accuracy without any ground control points, thanks to the precise position/attitude data of the satellite and well calibrated sensor models. Moreover, it is equipped with high data quality which does not include any systematic noise derived from the satellite observing system such as an attitude jitter by using high-frequency attitude data exclusively used for this product.
Comparison with existing global data(Ayers Rock)




Left: ALOS 5m resolution DEM, Right: Existing 90m resolution DEM
Comparison of processing levels of 5m resolution DSM (Miyakojima,Japan)

Left:Level1(Raw), Middle:Level1(Voids infilled), Right:Level2
Comparison between 5m resolution DSM and DTM (Chiba,Japan)
Left:DSM(Level2), Right:DTM(Level3)
Details
Product Type
DSM/DTM
Resolution
2.5 m/5 m
Satellite
JAXA - ALOS
Area
Global
Horizontal Accuracy
With GCP: - N/A
Without GCP: 5 m RMSE / 7 m CE90
*May vary based on the land characteristic.
Vertical Accuracy
With GCP: - N/A
Without GCP: 5 m RMSE / 7 m LE90
*May vary based on the land characteristic.
Minimum Order Size
400 km²
Delivery Formats
GeoTIFF
*Other formats are available on request.
Delivery Method
Online or Media (DVD)
Optional Services
- Panchromatic ortho(2.5 m resolution)
- Color ortho (2.5 m resolution)
- Quality-control File/Layer
- Format conversion service for 3D printer (Conversion to STL file format)
Area map