Satellite-based building 3D vector data
AW3D Building is a member of AW3D family that is specialized to describe ground features, such as buildings, vegetation, and overpasses. Both 2D footprint and height information of each building is provided as a vector data, and you can bring them into various GIS / CAD packages to perform various calculations and simulations. Wall texture of the building is also available as an option for visualization purpose.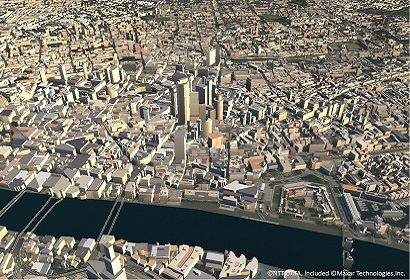 Building 3D Vectors(London)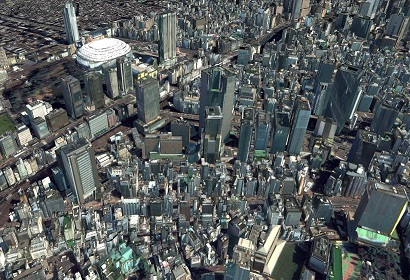 Building 3D Vectors with texture(Tokyo)
Cost-effective Building 3D Vector data with machine learning

In order to extract 3D information from a massive amount of 2D satellite imagery in an efficient manner, various techniques, including machine learning, are leveraged in our proprietary production system. We offer Building 3D Vector data of any location of the world as long as a suitable set of satellite images is in the archive repository.

Data products specialized for a variety of simulation applications

This data product is suitable for various simulation applications such as radio wave propagation simulation and line of sight (LOS) analysis. AW3D Building 3D Vector data is delivered in an industry-standard format that is compatible with a wide range of GIS, simulation, and design environments.
Building 3D Vectors (San Francisco SoMa) You can check the shape of building from every angle of 360 degrees.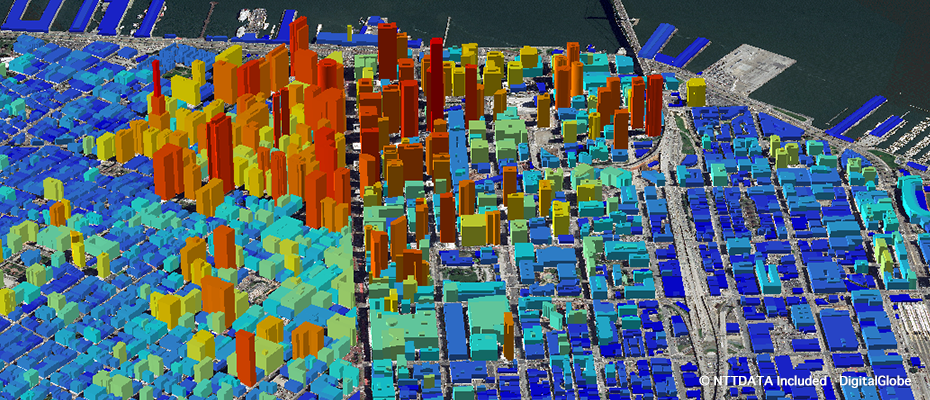 Off-the-shelf coverage
Building 3D Vector data of the following areas are available as off-the-shelf products. Please contact us for detailed coverages and the vintage.
| | | |
| --- | --- | --- |
| Region | Country | City |
| Asia | Bangladesh | Dhaka |
| | China | Beijing,Chongqing,Guangzhou,Shanghai |
| | Hong Kong | Hong Kong |
| | India | Mumbai,New Delhi |
| | Indonesia | Bandung,Denpasar,Jakarta,Surabaya |
| | Japan | Major cities (coverage with 90% population) |
| | Malaysia | Ipoh,Johor Bahru,Kuala Lumpur,Penang |
| | Myanmar | Yangon |
| | Philippines | Manila |
| | Singapore | Singapore |
| | South Korea | Seoul |
| | Sri Lanka | Colombo |
| | Thailand | Bangkok,Chiang Mai,Chonburi,Pattaya,Phuket,Si Racha |
| | Turkey | Ankara,Istanbul |
| | Vietnam | Hanoi, Ho Chi Minh |
| Oceania | Australia | Canberra |
| North America | Canada | Major cities (more than 40 cities) |
| | United States of America | Major cities (more than 60 cities) |
| Latin America& Caribbean | Argentina | Buenos Aires |
| | Barbados | Bridgetown |
| | Brazil | Rio de Janeiro |
| | Brazil | Sao Paulo |
| | Colombia | Bogota |
| | Costa Rica | San Jose |
| | Cuba | Havana |
| | Ecuador | Quito |
| | Guatemala | Guatemala City |
| | Haiti | Port-au-Prince |
| | Honduras | Tegucigalpa |
| | Jamaica | Kingston |
| | Mexico | Mexico City |
| | Peru | Lima |
| | Venezuela | Caracas |
| Europe | Belgium | Brussels |
| | France | Paris |
| | Greece | Athens |
| | Russia | Moscow |
| | Ukraine | Kyiv (Kiev) |
| | United Kingdom | Major cities (planned to cover approx. 300 towns/cites with more than 30,000 populations by Jun, 2022) |
| Middle East | Afghanistan | Kabul |
| | Bahrain | Manama |
| | Egypt | Cairo |
| | Iran | Erbil |
| | Iraq | Baghdad |
| | Jordan | Amman |
| | Kuwait | Kuwait City |
| | Lebanon | Beirut |
| | Pakistan | Islamabad |
| | Saudi Arabia | Riyadh |
| Africa | Algeria | Algiers |
| | Burkina Faso | Ouagadougou |
| | Cameroon | Yaounde |
| | Democratic Republic of the Congo | Kinshasa |
| | Ethiopia | Addis Ababa |
| | Ghana | Accra |
| | Ivory Coast | Abidjan |
| | Kenya | Nairobi |
| | Mali | Bamako |
| | Mozambique | Maputo |
| | Nigeria | Abuja, Lagos |
| | Senegal | Dakar |
| | South Africa | Pretoria |
| | South Sudan | Juba |
| | Sudan | Khartoum |
| | Tanzania | Dar es Salaam |
| | Togo | Lome |
| | Tunisia | Tunis |
Details
| | |
| --- | --- |
| Product Type | Building 3D Vectors (Digital Height Data, Polygon Type) |
| Satellite | Maxar Technologies - WorldView |
| Area | Worldwide (on-demand) / Off-the-shelf (see above) |
| Horizontal Accuracy | 2 m RMSE |
| Vertical Accuracy | 1-2 m RMSE |
| Minimum Order Size | 25 km² |
| Delivery Formats | Esri Shape (.SHP), Tab format (.TAB), COLLADA (.DAE) |
| Delivery Method | Online |