2022.09.12
AW3D at Autodesk University 2022
AW3D sales team will be at Autodesk University 2022 on Sep. 27(TUE) to 29(THU), in New Orleans, US.
This event gets together industry experts who are progressing in architecture, engineering, construction, design, manufacturing, and others. This conference is a charge for local participation, but also anyone can attend some sessions for free online(registration required). Please feel free to come and join us to learn how satellite-based 3D geodata can help the AEC industry and your business.
Our open class will be to get a basic understanding of GIS and satellite data, and to teach about a case study of users' needs associated with Autodesk products (AutoCAD Plus, Civil 3D, and InfraWorks) in terms of handling geodata, etc.
Please click our class here:
Title: CES501868 | Using Artificial Satellite Data in High-Low Mix Design Environment
Dates&Times: Sep.28(WED) 3:00 PM CDT
Speaker: Sami HARADA, Mariko MORIOKA (AW3D team from RESTEC)

AW3D team will also be participating in this event as an exhibitor:
Booth Number: INF220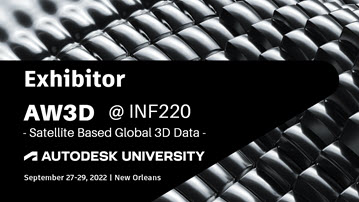 Back to the list