【Urban planning and assessment】India, Mozambique |AW3D Enhanced
Urban spatial growth analysis
Independent Evaluation Group (IEG) – World Bank Group
Independent Evaluation Group (IEG) of the World Bank leveraged AW3D for urban spatial growth analysis. The project team statistically analyzed the correlation between the Bank's investment and horizontal and vertical urban spatial growth.

To achieve sustainable urban development, it is critical for efficient urban functions and effective public service delivery whether cities grow horizontally or vertically. In order to evaluate spatial growth, the project team had to acquire 3D data of the area of interest at two different points of time. However, it is not easy to obtain comparable 3D data at two different points of time with the same quality with traditional methods. Delivery time and costs are also concerns.
By utilizing the large amount of archived data, AW3D provided high-resolution 3D data at two points of time for Maputo (Mozambique) and Mumbai (India) in a short period. It enabled IEG to complete the sophisticated urban spatial growth analysis and evaluation in the short-term. The study has found that the Bank's project has increased in urban density and horizontal sprawl but no significant vertical growth.

The result has provided an essential implication with objective data for the Bank's urban geospatial policy development.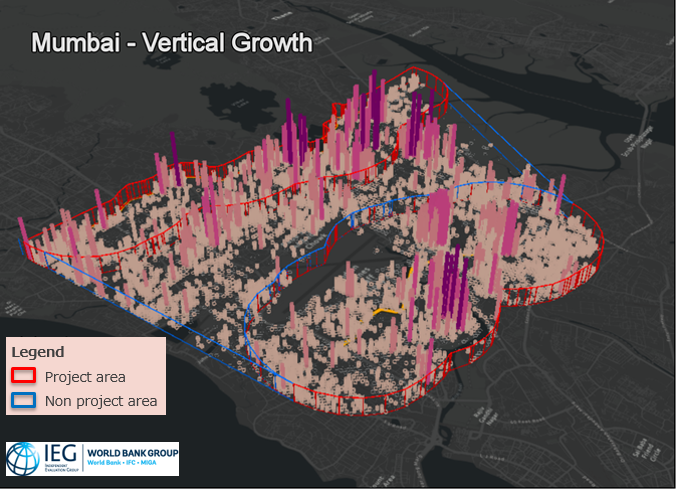 Image: The analysis result of urban development in Mumbai based on AW3D Enhanced
Cooperation/Reference/Data source
The Independent Evaluation Group (IEG)
http://ieg.worldbankgroup.org/
Back to the list